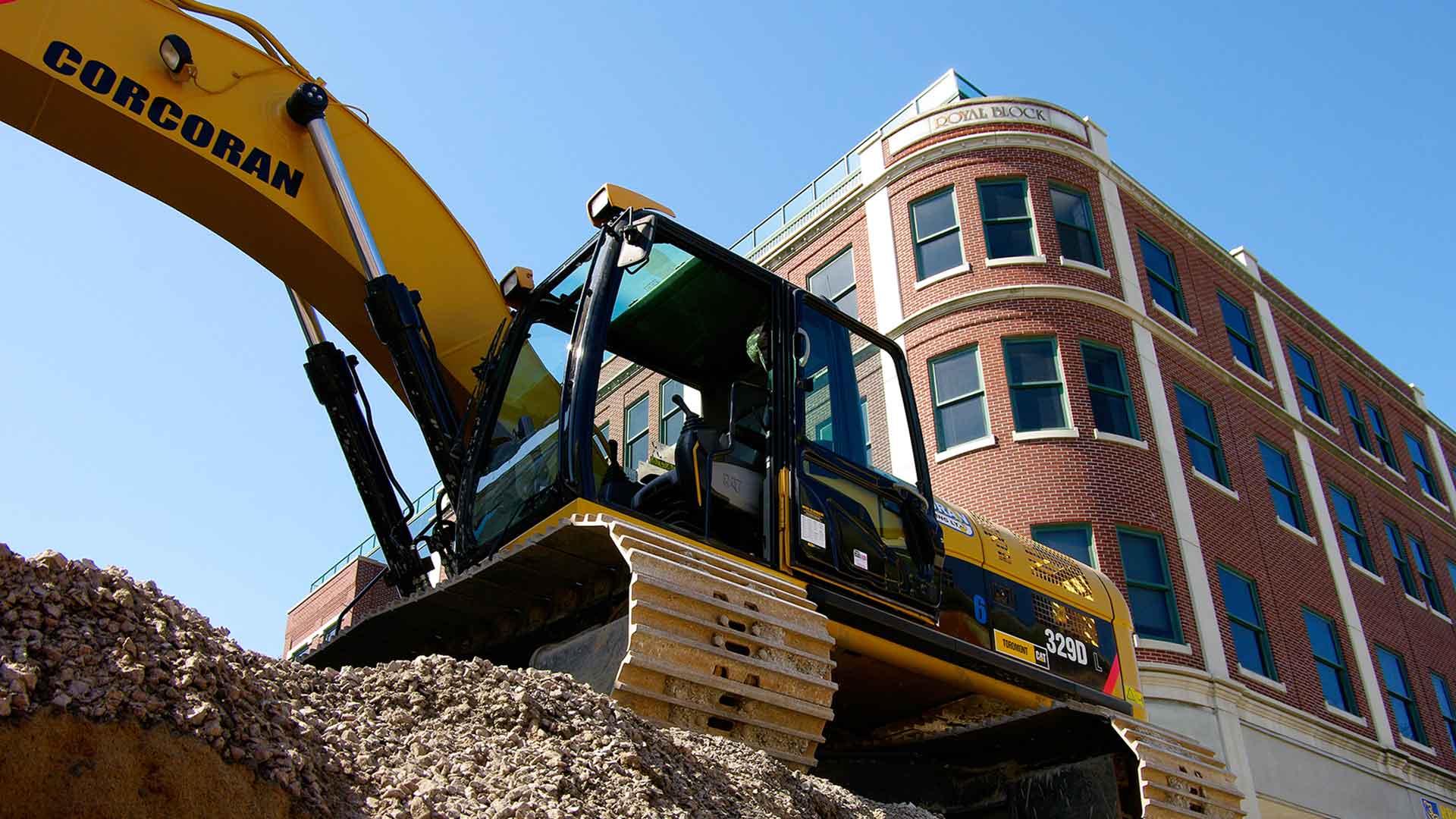 Len Corcoran Excavating
Putting People Before Profits Since 1962
Notice
In an effort to mitigate the spread of the coronavirus and to reassure our clients that LCE takes this new health issue seriously, access to our office and work facilities is now restricted. If you need access to any of our facilities or have any questions, please call our main office at 613 542-0820 during regular office hours.  Or you may contact the Construction Manager at 613 561-8620.
We thank you for your cooperation and understanding during this challenging time.  We look forward to continuing our business of maintaining and replacing valuable underground infrastructure for our community.
Our Commitment to Prevent the Spread of COVID-19
Len Corcoran Excavating Ltd. (LCE), is committed to ensuring the health and wellness of all employees. Providing a work environment that views and respects employee's health, and those of our community seriously, is important to us.
We have developed a policy and implemented procedures to help guide employees in contributing to keeping both our workforce and members of our community safe.
It is important for everyone to take steps to slow or help stop the spread of infectious diseases, including COVID-19 in our community and on our sites.
We are continuously monitoring information provided by our local health unit, our municipality, and the government of Ontario, to ensure that we are taking measures to ensure the health and safety of our clients, residents and employees. 
Our policy provides guidelines for all LCE facilities and work sites.  We ask all parties entering our work sites to abide by the protocols and procedures being implemented and to be respectful of the greater public good in the wake of this major health issue.  Also, we have taken additional steps to ensure that all those entering our work sites, and facilities to be screened before entry with a self-disclosure form.
We are encouraging and supporting a heightened level of hygiene on all of our work sites, incorporating safe work practices, cleaning and disinfecting of equipment and materials, and practicing social distancing.
We are committed to continuing our efforts of ensuring safe work practices while providing vital infrastructure work for our community and neighbouring communities.
Progressive, Innovative and Committed to our Community, its People and Our Environment
With a reputation for excellence, efficiency and with a focus on the community and its people, Len Corcoran Excavating has become Eastern Ontario's leader in the replacement of underground municipal infrastructure. Acting as the project manager for extensive water main and sewer replacement projects in Kingston, Belleville and Greater Napanee, LCE demonstrated a remarkable and unique ability to complete the projects on time and on budget, but also with minimal interference to residents and business owners. A forward thinking firm, LCE utilizes stringent environmental practices, believes in sustainability, and has also created a work environment that is welcoming, supportive, collegial and challenging. Since 1962 Len Corcoran Excavating has always put People Before Profits!
A Moral Obligation to Give Back
We Live Here, We Work Here And We Love and Support Our Community
Len Corcoran Excavating is a family owned and operated business that is proud to be part of the Kingston region. Dan Corcoran learned from his father that if the community supports you and helps make you successful as a business owner, there is a moral obligation to reciprocate. For many years, LCE has helped raise money for a number of local charities and organizations including the University Hospitals Kingston Foundation, the Limestone Learning Foundation and various cancer-related charities. Dan has also served as a member of the Kingston Construction Association for a quarter of a century, including being elected president in 2000. He has also represented his community on the Ontario Sewer and Water Main Construction Association Board. A long-time, active member of the Greater Kingston Chamber of Commerce, Dan Corcoran was named Business Person of the Year in 2010 and earned the chamber's President's Award in 2012, as well as becoming a Kingston Business Hall of Fame Inductee in the same year. The company would go on to earn the Kingston Chamber of Commerce Large Business Of the Year award in 2017.
For more than five decades, Len Corcoran Excavating has prided itself on its ability to communicate effectively, openly and consistently with its existing clients, new clients, future employees, municipal officials, fellow contractors, members of the public and the residents impacted by our work. We believe we go above and beyond to ensure our processes, costing and timelines are well articulated, that we welcome and encourage feedback and dialogue and that our key team members are always accessible and available to address concerns, and offer clarifications when required. Putting people first, being open, honest and operating with clarity and honesty have been the principles under which LCE has operated since its founding in 1962 and will continue to be the way we do business. Click here to learn more.
ADDRESS
Len Corcoran Excavating
2212 Sydenham Road
Elginburg, ON, K0H 1M0
GENERAL INQUIRIES
613-542-0820 ext.5