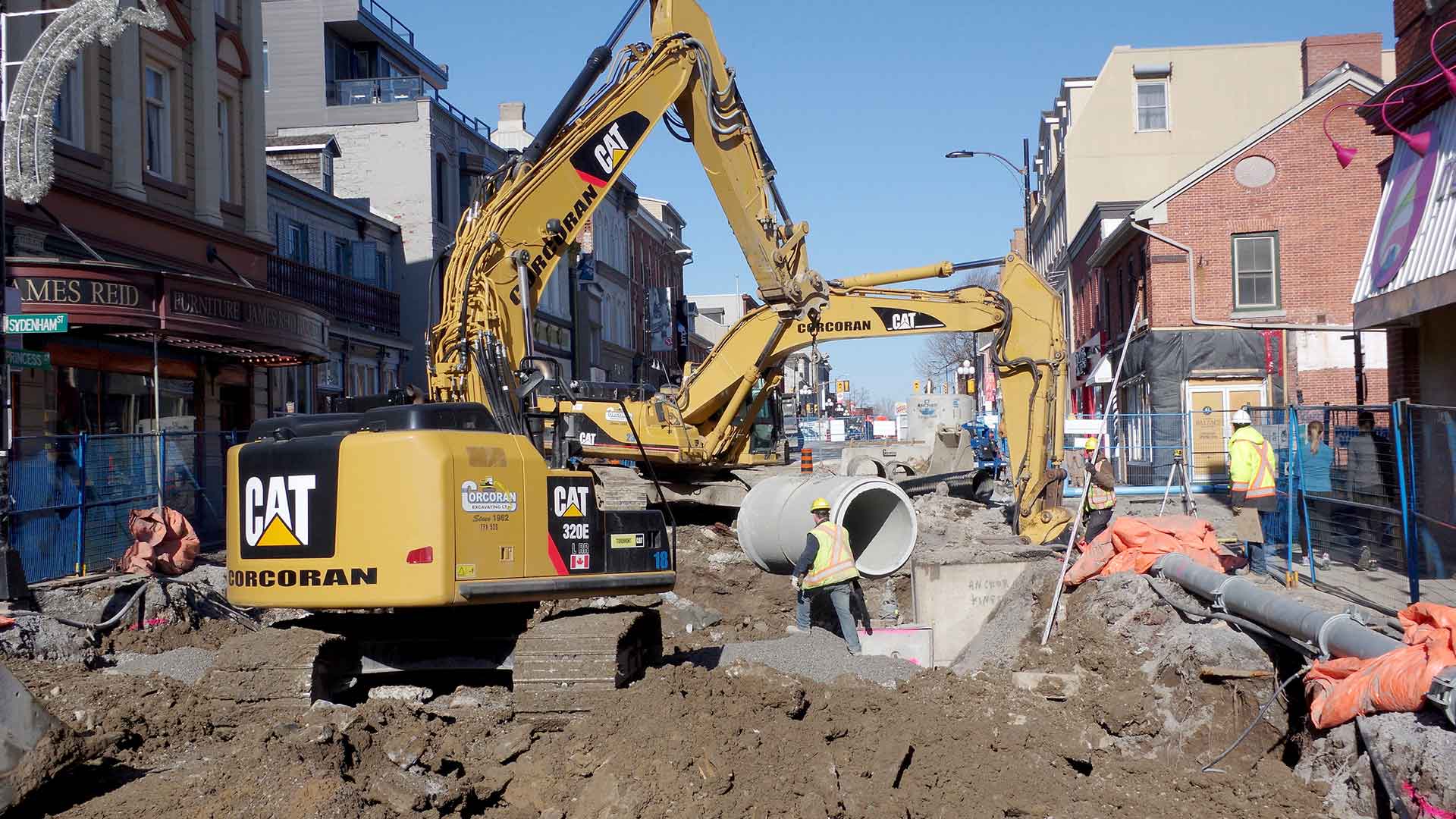 A Focus On Municipal Infrastructure Reconstruction
Building on our history with residential work such as roads, basements driveways and septic systems, over the past 30 years LCE has become a leader in site service excavation for large scale commercial, industrial and institutional organizations. Since the late 1980s, Len Corcoran Construction has also become a 'go to' municipal underground infrastructure replacement company for Kingston and the surrounding area. We have worked extensively on the replacement of storm sewers, sanitary sewers and water mains, as well as co-ordinating the rebuilding of the road and sidewalks in Kingston, as well as similar projects in Greater Napanee and Belleville.
Besides our technical acumen and ability to get the job done how and when we say it will be done, LCE works hard to ensure the lines of communication remain open for all stakeholders – especially the homeowners and businesses who are most directly impacted by the reconstruction work. People are a priority for LCE, and that includes not just the people doing the work, or the people who contracted us to do the work, but most importantly the people who may be inconvenienced by our work. Ensuring everyone is on the same page, from the excavator operator, to the business owner across the street, to the local municipal councillor and building department representative, is front and centre of how Len Corcoran Excavating has always conducted business.
For more than five decades, Len Corcoran Excavating has prided itself on its ability to communicate effectively, openly and consistently with its existing clients, new clients, future employees, municipal officials, fellow contractors, members of the public and the residents impacted by our work. We believe we go above and beyond to ensure our processes, costing and timelines are well articulated, that we welcome and encourage feedback and dialogue and that our key team members are always accessible and available to address concerns, and offer clarifications when required. Putting people first, being open, honest and operating with clarity and honesty have been the principles under which LCE has operated since its founding in 1962 and will continue to be the way we do business. Click here to learn more.
ADDRESS
Len Corcoran Excavating
2212 Sydenham Road
Elginburg, ON, K0H 1M0
GENERAL INQUIRIES
613-542-0820 ext.5